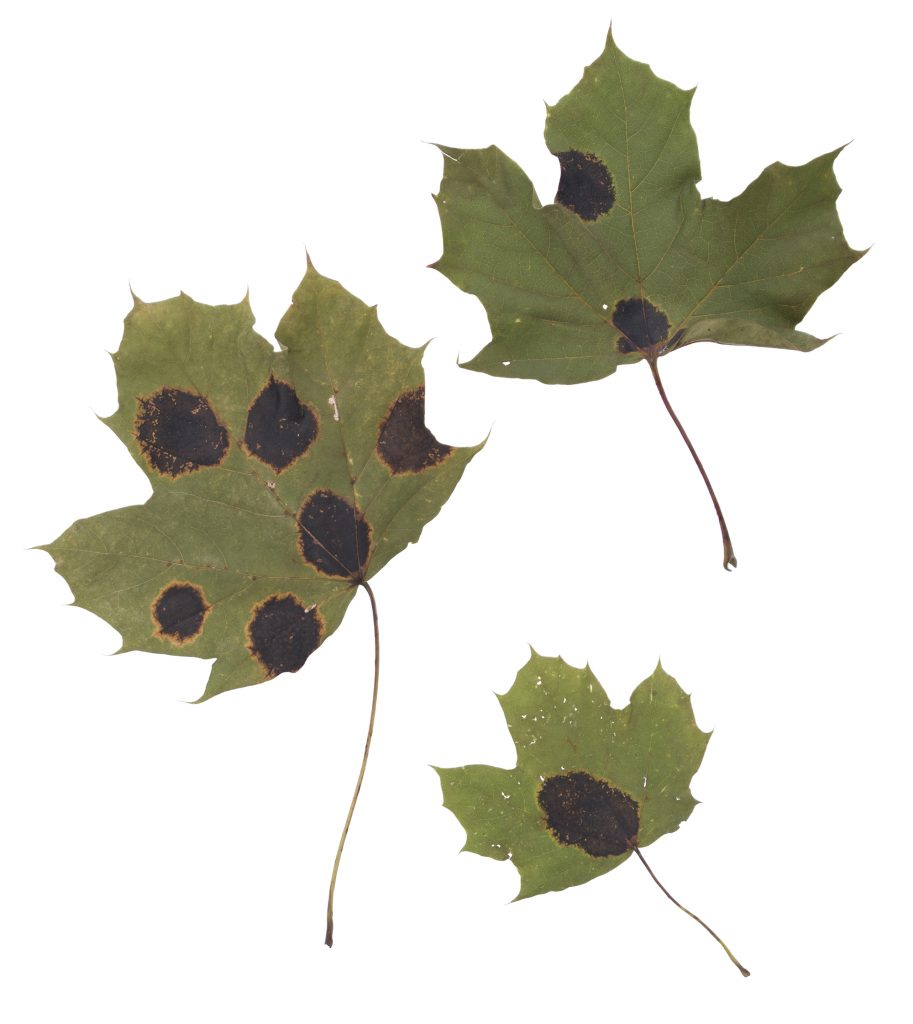 With fall fast approaching, homeowners and lawn care professionals have two choices when it comes to dealing with leaves: mulch or bag. Mulching is an easy, economical choice but sometimes it is best to bag and remove the fallen leaves, especially when battling tree-borne diseases.
Tar spot fungus is a common tree-born disease that afflicts most maple trees (the exception being Japanese maples). Tar spot appears are large black dots on the maple leaves. The fungus will only affect the leaves of the tree, leaving the rest of the tree unharmed.The black spots are unsightly but will do little other damage. The fungus spreads through the air by spores that come off the fallen leaves. To stop the spread of Tar Spot, it is best to collect and remove all fallen leaves from the area. Leaves should be burned or removed completely. The fungus can survive the winter and will return in the spring in infected leaves are left on the ground, this includes mulched leaves.
The tar spot fungus has been wide-spread this in Northwest Ohio this year – where USA Mower Blades are manufactured. A unseasonable wet spring is the likely culprit. For home owners or lawn care professionals dealing with an infestation, the best defense is to simply pick up the leaves and transport them off site for destruction. USA Mower Blades with medium, high, or extra high lift are ideal for bagging leaves and grass clippings. Eagle Series Blades from USA Mower Blades are 3-in-1 blades that can also be used for bagging.
The Eagle Series Blades from USA Mower Blades are ideal for fall leaf clean up. Eagle Series Blades are high-quality toothed commercial lawn mower blades designed specifically for longevity and durability. These 3-in-1 toothed blades can bag, side-discharge, or mulch grass clippings with a higher efficiency than standard, non-toothed blades. Toothed blades, while not always true mulching blades, are better for mulching than standard high-lift blades. The blade teeth do not have a cutting edge but are used to create extra lift, propelling clippings high into the mower deck. When the grass clippings and leaves fall back down, they are cut again before being lifted back into the deck or falling onto the lawn. Eagle Series Blades are available for many of the most popular commercial mowers on the market.
If tar spot fungus is not an issue, consider mulching the leaves. The shredded leaves will decompose over the winter and provide a quick nutritional boost for the grass in the spring. For more information on mulching leaves, click here.
For more information about Eagle Series Blades, exclusively from USA Mower Blades, click here.
For more information about USA Mower Blade or for help measuring or determining replacement blades, please call customer service at 734-863-0149 or by e-mail here.