60"/61" Scag 481712 Toothed Low Lift Mower Blade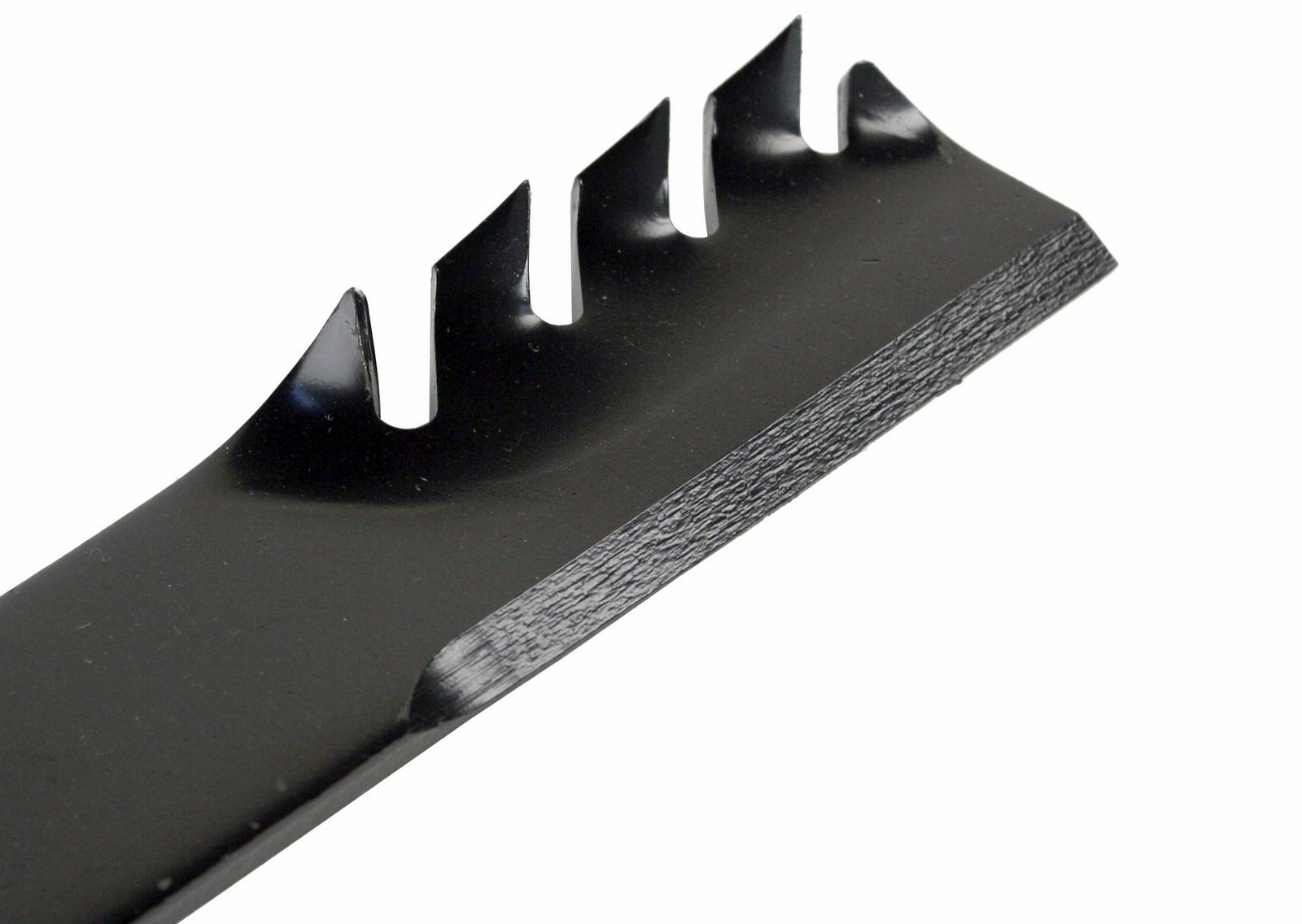 Product Description
How to Measure Blades
USA Mower Blades manufacturers replacement lawn mower blades for a wide variety of the most popular commercial lawn mowers on the market. USA Mower Blades are delivered sharp and ready for installation, guaranteeing a beautifully cut lawn every time. The heat-treated steel and epoxy-coated blades provide extra durability and will stand up to the toughest abuse while making any lawn look incredible.
All USA Mower Blades are manufactured in the United States. USA Mower Blades are designed, engineered, tooled, and produced in Ohio, using local materials and labor. The large selection of aftermarket blades fits the most popular commercial and residential lawn mowers, edgers, and power rakes.
Eagle Series Blades (Toothed)
Eagle Series Blades, exclusively from USA Mower Blades, are the ultimate 3-in-1 blade and are designed and manufactured for commercial use. Eagle Series Blades are high-quality toothed commercial lawn mower blades designed specifically for longevity and durability. These toothed blades can bag, side-discharge, or mulch grass clippings with a higher efficiency than standard, non-toothed blades.
Eagle Series Blades are toothed blades and are broken down into four categories depending on specifications: E6, E5, E4, and E3.
E4 – Eagle Series Blades
2-1/2" width x 0.250 thickness
The E4 blades are 2-1/2-inches wide and 0.250-inches thick. These extra-thick blades are heavy-duty and will tackle any lawn with ease. Designed for commercial applications, E4 blades offer unmatched durability and longevity. These toothed blades provide more lift and can be used for mulching, side-discharge, or bagging applications.
Lift Style
Low Lift – Flat to 11/16 in. These blades provide very little lift or suction. Less power is needed to operate this type of blade effectively. Low lift blades also produce less noise and dust. Ideal for use on sandy or dusty terrain where high lift and lots of suction are not required or wanted. Sand and dust sucked into the deck will accelerate wear on the blades and equipment.
Product Specifications
Blade Type:
Toothed
Center Hole:
5/8"
Length:
21"
Width:
2-1/2"
Thickness:
0.250"
Lift:
7/8"
Lift Style:
Low Lift
MPN:
CMB-111
Oregon Number:
96-360
Stens Number:
302-621
Replaces OEM:

Bobcat:

112111-03, 112243-03, 2722543-03, 42180B, 72039B, WM142180B,


Bunton:

79-117, PC005, PL4207,


Encore:

823006,


Ferris:

1520842, 1520842S, 5020842,


Giant Vac:

0788,


Great Dane:

D18036, GDU10232,


Husqvarna:

539101733, 539102093,


Hustler:

794859,


Kees:

101733, 1520842,


Lastec:

P-246, P-322,


Lesco:

050170, 1520842, 50170, 50256, 5070, 51532,


Ransomes:

42180B,


Scag:

48111, 481708, 481712, 482879, 48304, 483318, A48111, A48304,


Snapper:

1-7081, 1520842, 5020842, 7017081, 7075770, 7075770BZYP, 7075770YP,


Snapper Pro:

5020842,


Wright Mfg.:

1520842, 71440003,
Fits Brands:
Scag, Bobcat, Bunton, Encore, Ferris, Giant Vac, Great Dane, Husqvarna, Hustler, Kees, Lastec, Lesco, Ransomes, Snapper, Snapper Pro, Wright Mfg.
Fits Models:

Bobcat:

Requires 3 for 61" deck,


Bunton:

Requires 3 for 61" deck,


Encore:

Prowler Mid-Cut; Requires 3 for 61" deck,


Ferris:

Requires 3 for 61" deck,


Great Dane:

Requires 3 for 61" deck,


Husqvarna:

Requires 3 for 61" deck,


Hustler:

Requires 3 for 60" deck,


Kees:

Requires 3 for 61" deck,


Lastec:

Requires 3 for 61" deck,


Lesco:

Requires 3 for 61" deck,


Scag:

Requires 3 for 61" deck,


Snapper Pro:

Requires 3 for 61" deck,


Wright Mfg.:

Requires 3 for 61" deck,